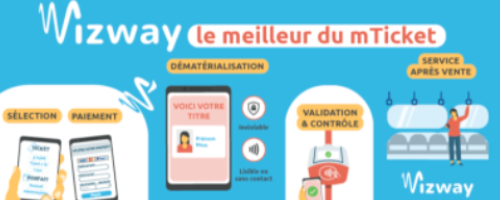 Propose an offer of securities A fully paperless and contactless transport system that allows users to travel easily, smoothly and reliably, just with their smartphones? This is possible with the Wizway solution, which finally connects mobile players to those of mobility. A 100% secure service that bridges the gap between the mobile applications of the transport industry and the technology of our smartphones.
With the widespread use of smartphones, it is possible to offer travelers a simpler and faster way to buy and use their tickets. This is a clear expectation of users. It is also a crucial issue for developing responsible mobility based on public transport.
Wizway meets a simple need in the complex ecosystem of transport network ticketing systems: to apply to the mobile all the efficiency of the services offered until now on plastic cards.
Actor of progress at the service of the customer experience
All over the world, contactless cards have been widely deployed in public transport. This is because they meet the requirements of the sector: safety, reliability and ease of use.
Using your smartphone as a contactless card is one more step in simplifying the customer experience. This makes it possible to erase the last constraints such as the long queues at peak times to recharge one's card. This progress was first made possible by the widespread use ofNear Field Communication (NFC) technology in smartphones. The only thing missing was the Wizway link to fully exploit it by allowing the dematerialization of contactless titles on mobiles.
The validation process is easy and identical on all networks. Wizway ensures continuity of use with contactless cards for an optimal transition on smartphones. The purchase and validation of tickets is done in the blink of an eye and will soon be the new reflex of users. Welcome to the era of smooth, efficient and secure mobile transportation.
THE mobile solution for public transport
It is clear that digitalization meets the expectations of users. But it must not be at the expense of the economic balance of public transport. However, the solutions deployed so far to dematerialize transport tickets, such as QR codes, are neither secure nor fluid enough for large-scale use.
Wizway has drawn on the combined expertise of its partners (Orange, RATP, SNCF, Thales) to offer Mobility Authorities and Operators THE mobile solution for public transport. It is based on the contactless technology already in place on validation and ticketing equipment. And it ensures the dematerialization of titles on smartphones within a fully controlled technological chain, including the secure collection of revenues generated by this new distribution channel.
Technically, how does it work?
The solution developed by Wizway allows any type of information to be stored in a smartphone and to communicate securely and without contact with any type of reader (validators, control equipment, etc.). Depending on the phone model, the ticket is placed either directly in an internal chip (SE – Secure Element) or stored in a secure memory space (HCE – Host Card Emulation). In the first case, the user can validate his ticket even if his phone is turned off or out of battery.
For a smartphone to be used as a contactless transport card, two elements are required:
It must embody NFC technology, which allows it to communicate without contact with ticket validation and control equipment,
It must host a mobile application that sells tickets and is able to create a secure space on the smartphone to store and manage the tickets purchased.
It is Wizway that will give this capability to the mobile application.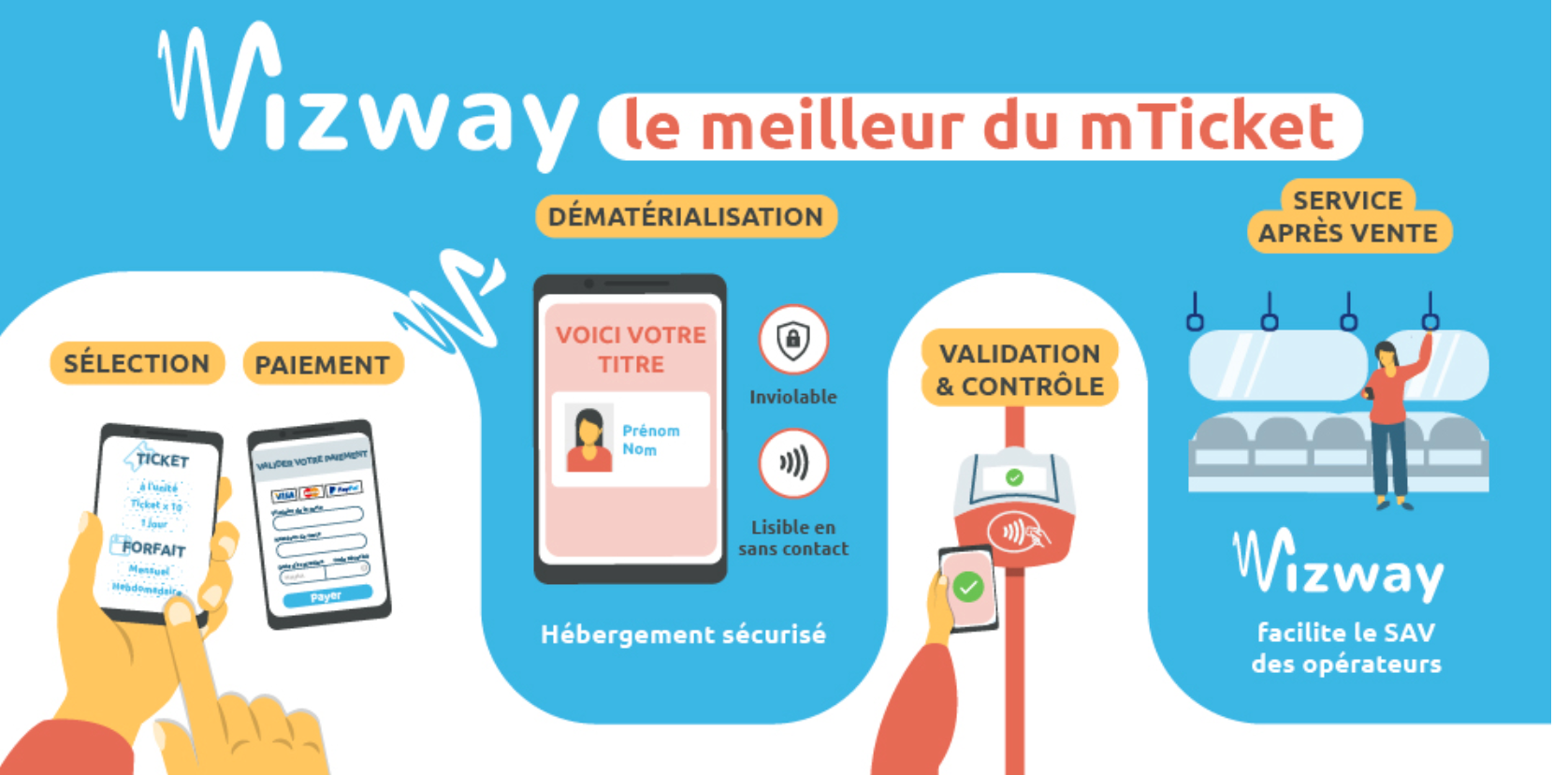 At the heart of the dematerialization of securities
What exactly is Wizway's role in the process of digitizing and using tickets?
First step: a mobile application offers the traveler a catalog of tickets. Second step: once the customer has made his choice, he pays for his purchase via one of the payment solutions offered in the application. Last step: the purchased ticket is delivered to the smartphone. The application must then host it in a "digital safe" to make it both tamper-proof and non-reproducible, but also to make it recognizable by validation and control equipment. That's where Wizway comes in.
At the very moment when the customer makes his first purchase from the mobile application of the transport operator, Wizway goes into action to define the type of digital safe to be created to host his tickets: either a "software" container in the smartphone's memory, or a "physical" container in an electronic chip directly soldered by the phone manufacturer. The choice of the type of container is based on one criterion: to offer the best customer experience according to the smartphone's capabilities. Once the container is created, Wizway authenticates the mobile application and allows it to register each new ticket purchased and then securely access it.
This operation is transparent for the user, but requires all of Wizway's know-how to adapt to the different security modes of smartphone manufacturers, as well as to the diversity and rapid evolution of operating systems.
But Wizway doesn't stop there. The entire lifecycle of the mobile ticket is taken care of: updating or deleting the ticket, transferring it to a new mobile, saving data, following up in case of loss or theft… The after-sales service process can be entirely digitalized and carried out remotely by the transport operator. Throughout the chain, Wizway guarantees complete confidentiality of personal data and provides mobility operators with all the technical data necessary for customer support.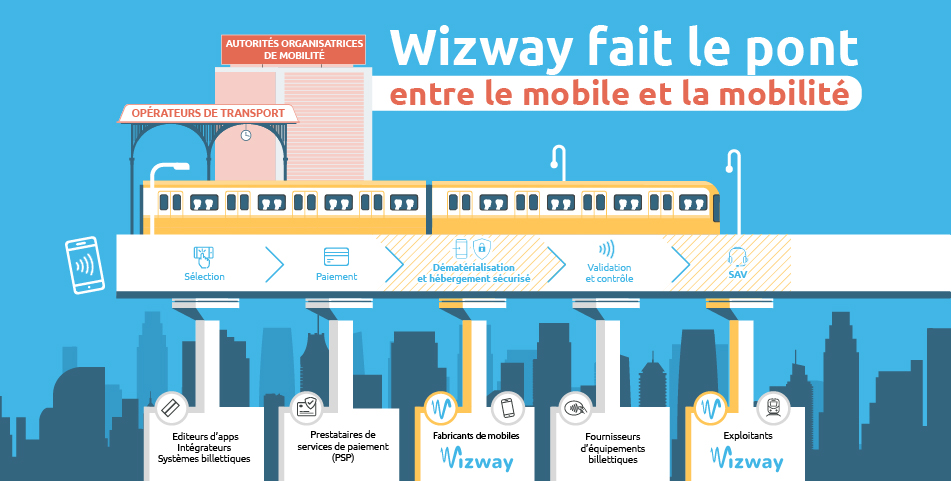 An agile, accessible and competitive solution for all mobility operators
Wizway has created a technological hub for the dematerialization of transport tickets that is both scalable and standardized. In other words, Wizway develops secure connections with the mobile world, and then pools them on its platform. Through a simple API(Application Programming Interface), Wizway provides the entire process of dematerialization of the vouchers and their life cycle, and ensures the security of these different stages: distribution of the voucher, data backup, reading operation…
This strategy allows mobility operators and local authorities to benefit from the best of mobile technology at a very competitive price, while retaining control of their ticketing chain.
Wizway's hub adapts to all sizes of networks, whatever the needs or ticketing standards used by Transport Organizing Authorities (TOA). It can accommodate new players, integrate new ticket formats, and be deployed on all types of media and technologies, as well as withstand the large volumes or peaks of activity in major cities.
More than a technology, a range of services
The Wizway solution is not only a technological innovation: it draws all its strength and agility from its associated services offer.
This offering includes a SaaS-based infrastructure that guarantees 24/7 operation and maintenance. To maintain its performance, Wizway constantly conducts tests in its customers' environment, on a set of reference mobiles that evolves according to new developments on the market. New smartphones, new brands, evolution of operating systems… Wizway is in constant contact with the world's cell phone manufacturers, negotiates commercial and technical agreements with them and provides its clients with a monitoring and consulting role on the evolution of mobile platforms.
Strasbourg, Lille, Paris… Several French cities already offer digitalized transportation tickets on smartphones thanks to Wizway's technology and services. With more than 5 million digitalized trips already, Wizway is the European leader in the dematerialization and contactless use of transport tickets on smartphones.